Natural Vet Care Ageility

Ageility

Ageility is suitable for all older dogs who want to stay active and feel good!
Ageility is a premium veterinary strength senior supplement providing proven 360ᵒ support for older dogs. Its unique blend of ingredients effectively supports stiff joints and maintains a healthy heart and an alert mind.
Please note: The colour and smell of this product has changed but the benefits and efficacy of its unique formulation are not affected.
Tasty and Easy to Feed!
Ageility pellets are designed to ensure maximum palatability and can be offered as a treat or mixed in with your dog's daily feed, once a day.
Maintenance levels can be adjusted to suit the individual. Please contact us if you have any feeding questions and we will be happy to discuss your dog's case with you and provide bespoke advice.
A 75g pouch lasts approximately 30 days based on a 20kg dog.
One 2.5ml scoop provides approximately 2.5g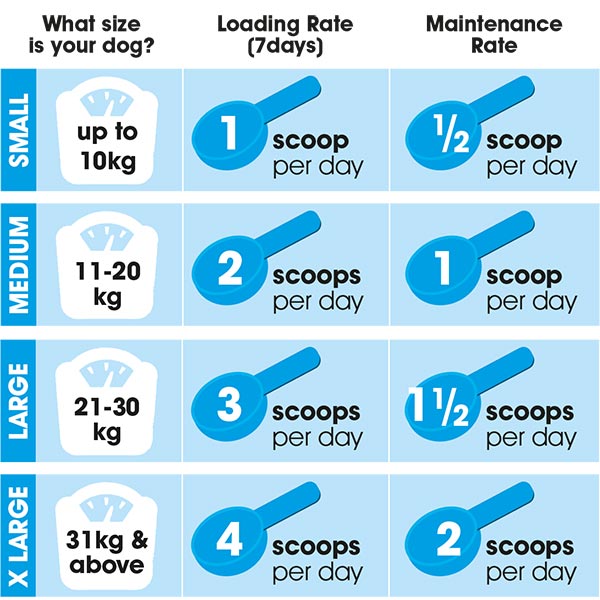 360ᵒ Senior Support
EASES STIFF JOINTS
Glucosamine, Chondroitin and MSM combine synergistically for optimum joint health, whilst natural antioxidants such as Omega 3 support the body's anti-inflammatory processes.
PROMOTES VITALITY
Packed with brain nutrients for cognitive support such as Ginseng and L-carnitine to promote vitality. With Hawthorn for maintenance of a healthy heart beat and multiple vitamins and minerals providing optimal senior nutrition.
ANTI-AGEING
The powerful Immortality Herb promotes longevity whilst key vitamins and antioxidants are included to provide unrivalled support for the liver and immune system.
Key Ingredients:
Immortality Herb, Ginseng, Omega 3, Glucosamine, Chondroitin, MSM, L-carnitine, Chlorella, Omicha Berries, Hawthorn Berries, Vitamin E, Vitamin B1, Vitamin B6, Zinc.
NB. If your dog has specific dietary concerns, please contact us and we will give you bespoke advice.
Composition
Glucosamine (from crustaceans), Methyl sulphonyl methane, Lucerne (high temperature dried), Spirulina, Fructo-oligosaccharides, Ginseng (Siberian), Omicha berries, Hawthorn berries, Chondroitin sulphate, Immortality herb (19g), Linseed oil, Sunflower oil, Chlorella (dried), Artichoke leaves, Maltodextrin, Ginseng (Panax).
Additives (per kg)
Nutritional Amino acids:
DL-Methionine (3c301) 19,600 mg
Trace elements:
Zinc (3b603, Zinc Oxide) 4,320 mg
Vitamins & provitamins:
L-Carnitine (3a910) 100 mg, Vitamin B1 (3a821) 124 mg, Vitamin B6 (3a831) 12.99 mg
Analytical constituents
Crude protein 15.0%, Crude oils and fats 9.3%, Crude ash 10%, Crude fibre 10%, Sodium 0.22%, Omega 3 2.3%.
Ask The Vet
The vets at Natural VetCare create unique supplements here in the UK to support the health of cats and dogs and help them to feel good. If you have any questions regarding your pet, please contact us and we will be happy to help.
Ageility
"Ageility targets not only the onset of stiffness in older dogs but also helps to support the brain as your dog shows signs of ageing, such as not wanting to play or go for a walk. By targeting both joint health and alertness of mind, Ageility provides total support for your older dog, giving him back the desire and the ability to live his life to the full for longer. I am totally confident your dog will feel a benefit for taking Ageility daily."
Dr. Nicholas Larkins BVSc DSc MRCVS
"Ageility has been a miracle worker for my 15 year old lab cross who still has a spring in her step since first using this 3 or 4 years back when she was struggling. If only there was an equivalent product for humans!"
Delivery Timescales
Romypets aim to get your purchases to you as quickly as possible. We offer a 2-4 day delivery service but at times certain products may take slightly longer due to demand or a potential external delivery issue (bad traffic, bad weather, etc). We will notify any customers of any potential delivery issues beforehand to give you comfort knowing we are tracking your purchases.
Delivery Costs
Free Shipping on all items over £29
Just £1.99 on all items under £29
Couriers
We use DPD for all parcels over 2kg, fully tracked and notification of 1 hour delivery slots.
All items under 2kg are sent via Royal Mail tracked 24 and 48
Urgent Items
If you require any items more urgent please contact us on the below contact details for delivery options and pricing.
Returns
We offer a full money back guarantee if you are not happy with the goods you purchased from us within 30 days.
If you would like to return an item please message us and we will send you a return label
Contact
Phone Us : 029 2236 2765
Email Us : customercare@romypets.com
Message Us : Messenger Button Right Hand Corner